中国气象学会第二十八届理事会

王会军理事长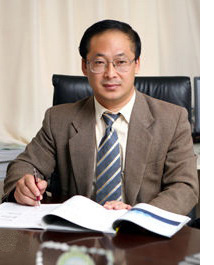 王会军,男,大气科学家,中国科学院大气物理研究所研究员。1964年1月4日出生于黑龙江省桦川县。1986年毕业于北京大学地球物理系天气动力学专业,1991年在中国科学院大气物理研究所获博士学位。2001年8月-2014年5月担任中国科学院大气物理研究所所长。
长期从事古气候模拟、气候变化和气候预测理论等方面的研究。把古今气候研究结合起来,对东亚气候变化研究做出重要贡献,发现了东亚季风年代际变化的若干重要事实;揭示了南极涛动、Hadley环流、北大西洋涛动等对东亚气候的显著影响及其物理机制;完成了我国首个基于自己气候模式的全球变暖定量模拟结果;提出热带相似和年际增量气候预测思想和方法,显著提高了东亚气候和台风活动的气候预测水平。
2013年当选为中国科学院院士、挪威技术科学院院士,2014年11月当选中国气象学会理事长。曾经获得国家杰出青年基金、何梁何利科学与技术进步奖。发表国内外核心期刊学术论文230余篇,其中140余篇为SCI(网络版)收录论文。获得过国家自然科学奖二等奖(第2完成人)、中国科学院自然科学奖一等奖(第5完成人)、2010年度卢嘉锡优秀研究生导师奖(全国10名)、全国优秀科技工作者等荣誉。培养的博士毕业生中有3人荣获中国科学院优秀博士学位论文奖,1人荣获全国优秀博士学位论文奖,1人荣获中国青年科技奖,1人获得国家杰出青年基金,1人获得国家自然科学基金首届优秀青年基金。
Prof. Wang Hui-Jun
Institute of Atmospheric physics
Chinese Academy of Sciences (IAP/CAS)
Education:
9/1982/-7/1986/ Bachelor, Peking University
9/1986/-9/1991/ PhD, IAP/CAS
Research Experience:
9/1991/ -12/1994/ Assistant Prof. at IAP/CAS
12/1994/-12/1996/ Associate Prof. at IAP/CAS
12/1996/-present Professor at IAP/CAS
He was the first in China to couple an Atmospheric General Circulation Model with a mixed layer ocean model and a thermal sea ice model, and simulated the climate changes induced by the CO2 doubling. His result was cited by the IPCC Supplementary Report (1992). He found the interdecadal scale weakening of the East Asian summer monsoon in late 1970s, which has been followed by a large number of studies. He indicated the important role of vegetation feedback to the East Asian monsoon climate in the mid-Holocene via the climate model simulation. He and his team revealed the linkage of the Antarctic Oscillation to the central North China summer precipitation and the tropical cyclone activity over the western North Pacific. He has many contributions toward improving the seasonal climate prediction in China and most of his work are original and have importance to the operational climate prediction.
Honors and Awards:
1. Zhao Jiu-Zhang Award for young geo-scientists (1994);
2. Outstanding Young Scientists Awards of Chinese Academy of Sciences (1997, Second grade);
3. Chinese Academy of Sciences (CAS) Natural Science Awards (1998, First Grade, the 5th contributor).
4. Chinese Academy of Sciences (CAS) Outstanding Youth Awards (2001).
5. The National Science Awards (2005, Second Grads, the 2nd contributor)
6. National Award for Excellent Scientists and Technicians by the Chinese Association of Science and Technology (2010)
7. THE HO LEUNG HO LEE FOUNDATION Prize for Scientific and Technological Progress
8. Member of the Norwegian Scientific Academy of Polar Research (Since June 2008)
9. Member of the Norwegian Academy of Technological Science (2013.04-)
10. Member of the Chinese Academy of Sciences (2013.12-)
l Published over 240 papers, with 140 SCI-Extended papers
l Director of the Nansen-Zhu International Research Center (NZC), which was established in cooperation with Ola M. Johannessen in November 2003 Beijing. The NZC has six partners from Norway and China.
l Director-general of Institute of Atmospheric Physics Chinese Academy of Sciences. (2005.08-2014.05)
l Chief Editor of Advance in Atmospheric Science (SCI-extended journal). (2001.08-2014.05)
l Vice president of Chinese Meteorological Society (Oct 2010-Nov 1014)
l Vice chairman of the China Scientific Expedition Society (Since 2001)
l Chairman of the China National Committee for WCRP (Since 2013)
l Chief Editor of Atmospheric and Oceanic Science Letters. (Since 2008)
l President of Chinese Meteorological Society (since Nov 1014)